Look Your Best On Your Wedding Day
Bridal Hair & Beauty Tips To Look Your Best On Your Wedding Day – Suzanne's Hair & Beauty Salon in Coventry
If you're planning to tie the knot this year, why not let our team help you look your best for your big day. Call us on 024 76 635078 to book in for a wedding hair consultation at least four to six months in advance of your big day so we can work together to get your hair exactly as you want it. We also cater for a wide range of your beauty needs including nails, facials, body treatments, tanning, hair removal and lashes at Suzanne's Hair & Beauty Clinic in Coventry.
Bridal Hair & Beauty Countdown at Suzanne's Hair Salon in Coventry
The team at Suzanne's Hair & Beauty Salon in Coventry have the experience, talent and creativity to create a stunning wedding hairstyle that will suit you and compliment your wedding dress and any bridal theme. If you are in any doubt about the timescales involved in having hair extensions, a new hair colour, or a series of radiance-boosting facials, read on…
6 Months To Go – Book Your Bridal Hair Consultation
Call us on 024 76 635078 to book in for a wedding hair consultation at least four to six months in advance of your big day so we can work together to get your hair exactly as you want it.
To make sure you look absolutely amazing on the day, we always recommend that you come and see us for a trial session.
We allow ample time to try out as many styles as you like and you can rest assured that we are experts in creating bridal hairstyles including putting hair up, intricate plaited styles, long-lasting wavy hair, vintage bridal hair and incorporating flowers, hair accessories and veils into your style.
It is always helpful if you can bring a picture of the wedding hairstyle you have in mind. If you have a bridal theme or you have already chosen your wedding dress, please talk to us about this too so we can create a stunning hairstyle.
From initial consultation right through to delivery, we guarantee a personal service to create the perfect hair for you on your wedding day.
4 Months To Go – Try Bridal Hair Extensions
If you are longing for long, luscious hair with loads of volume for your big day but you are simply running out of time, why not try hair extensions? Hair extensions are not only used to add length, they are also great for adding volume and colour too. Speak to your stylist at Suzanne's Hair Salon about the options for your wedding day hairstyle, we will work with you to create a beautiful wedding day hairstyle especially for you.
The options are endless for wedding day hairstyles, from beautiful updo's, curls and waves, straight, half up half down, the list goes on!
4 Months To Go – Wedding Facials
Now's the time to start your face care routine so that your skin looks flawless and radiant in your wedding photos! Book a high performing Dermalogica facial or series of facials and you will come away from us with a healthy glow and beautifully hydrated skin.
3 Months To Go – Brow Shaping
Beautiful eyebrows frame your face and accentuate your features, so ensure yours look their best for your big day by visiting the brow technicians at Suzanne's beauty salon. We offer a range of treatments to create the perfect brows, including brow tinting and shaping.
3 Weeks To Go – Fancy A Golden Glow Tan For Your Wedding Day?
If you want to look sun kissed in your wedding gown, you may want to consider getting a tan. Our Coventry beauty salon has a vertical Megasun Tanning Tower as well as a range or a top quality Fake Bake take home tanning products. Start building up a gentle tan a few weeks before your wedding day for a lovely golden glow.
2 Weeks To Go – Hair Removal
Ensure that your skin silky smooth as silk for your wedding day and honeymoon with our professional waxing service. If you are planning to wax any areas, we recommend that you have it done a minimum of two weeks before the wedding. We also offer electrolysis and laser hair removal – but you will need to start your hair removal process many months earlier if you want these more high tech treatments. Find out more about our hair removal options here.
1 Week To Go – Beautiful Bridal Nails
You'll want your hands to look fabulous when the ring is slipped onto your finger, so remember to book in for one of our range of nail services. If you want lovely nails for your wedding, we have a number of fantastic services available. We offer long-lasting gel nails, nail extensions and nail art.
1 Week To Go – Lovely Long Lashes for Brides
Lovely long lashes will accentuate your eyes and make them look bigger, so you may wish to book in for professional eyelash extensions the week before your big day. At Suzanne's Beauty Salon in Coventry, we offer a range of eyelash services including lash lifting and weekend lashes, to give you longer, thicker lashes for the wedding photos!
1 Day To Go – Relaxing Massages for Brides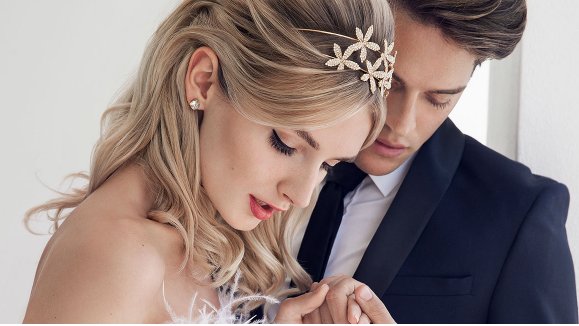 To ensure you are looking relaxed and radiant on your big day, why not treat yourself (and your bridesmaids) to one of our luxurious massages? We can highly recommend our Swedish Massage which will give you a sense of wellbeing, restoring the equilibrium of mind and body and leaving you ready to face your big day looking and feeling your very best.
Now you are all set and ready to go, all that's left is to wish you all the very best on your special day. Congratulations!